Manage our environmental footprint
We are committed to progressively reducing our environmental footprint. In order to do so, we are implementing best practices and aim to go beyond regulatory requirements. Our focus areas are energy consumption and GHG emissions, energy efficiency of products and services, waste and paper management. We constantly monitor our environmental performance and have established commitments related to our most significant environmental topics.
For more details on our commitment to fight climate change, please see our Climate Action Plan and TCFD report.
Our commitments
*Voluntary agreement compliance is measured on a calendar basis by a third-party. The last available report corresponds to 2018 compliance.
Carbon reduction enablers
According to the "SMARTer 2030 ICT Solutions for 21st Century Challenges" by GeSI and Accenture report, the use of information and communications technologies (ICT) could result in the avoidance of emissions representing almost 10 times those generated by the ICT sector. ICT, including products from the telecommunications industry, can enable a 20% reduction in global carbon emissions by 2030, holding emissions at 2015 levels. We are helping to dematerialize the economy by virtualizing services and substituting higher-emission products or services for lower-emission ones. For example, our telephone conferencing and e-commerce services are reducing business travel. E-billing and e-ticketing are reducing paper usage.
2020 GHG emissions by scope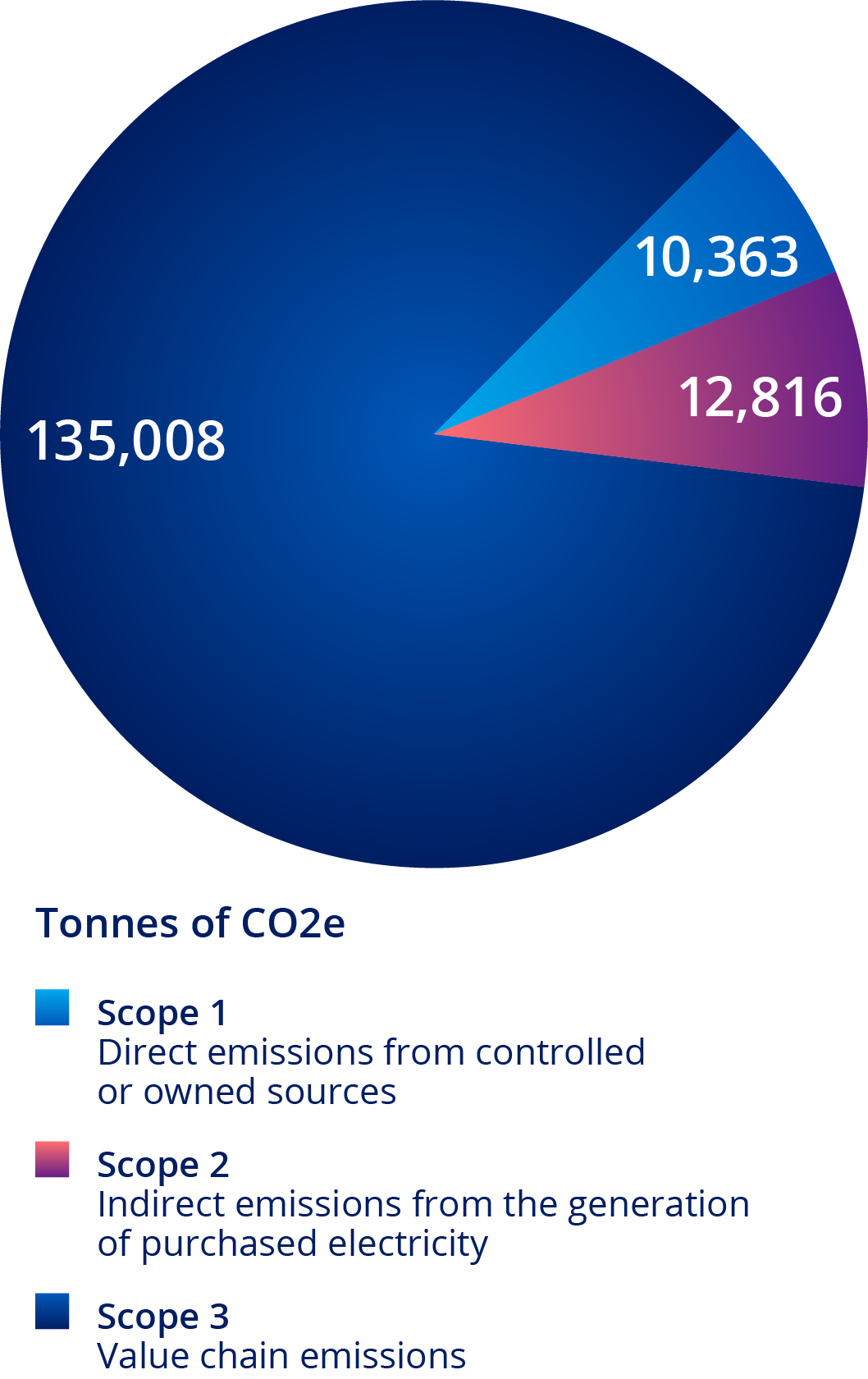 Our scope 3 (value chain) emissions
We have completed an initial comprehensive calculation of our scope 3 (value chain) emissions. In fiscal 2020, value chain emissions represented over 80% of our total emissions footprint. Because of this, our overall science-based emissions reduction target includes targets to drive emissions reductions across our value chain.
Renewable energy
In fiscal 2020, we began the implementation of our strategy to increase the use of renewable energy in our operations. This included the purchase of over 9,000 MWh of clean energy through Renewable Energy Certificates and a green utility tariff in Virginia.
Progress towards our science-based emissions reduction target
Investment in renewable energy, combined with various fuel and energy efficiency initiatives across our fleet and network, resulted in a 17% reduction in absolute scope 1 and 2 emissions in fiscal 2020 compared to 2019. We are currently tracking ahead of our target pathway.
Absolute GHG emissions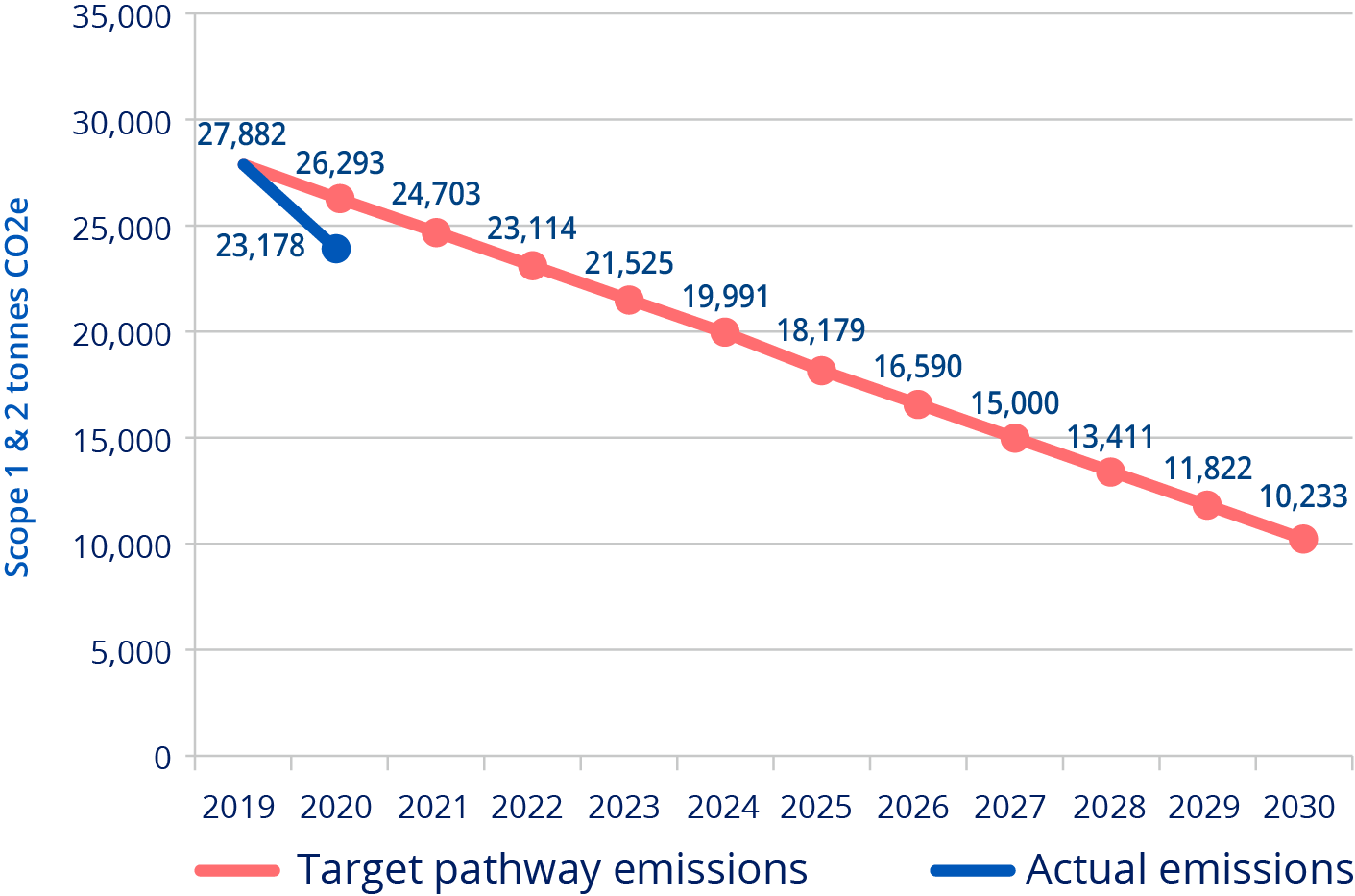 Scope 1: direct emissions from owned or controlled sources
Scope 2: indirect emissions from the generation of purchased electricity

For more information on how Cogeco identifies and manages climate-related risks and opportunities, ​​​​please read our CDP report here.
Our fiscal 2020 GHG emissions limited assurance report covering 94% of our scope 1 & 2 emissions is available here.
Our fiscal 2019 GHG emissions limited assurance report covering 93% of our scope 1 & 2 emissions is available here.
Managing our electronic waste
The equipment we provide to our customers is collected, tested, repaired or refurbished, and redeployed. Equipment that can no longer be redeployed is resold or recycled. We have recently partnered with Computers for Success, an organization that refurbishes and distributes computers to schools, libraries, not-for-profit organizations, Indigenous communities and eligible low-income families. By donating office equipment, Cogeco will contribute to delivering improved access to technology for Canadians at risk of digital exclusion.
Paper consumption reduction
Since fiscal 2017, we have more than doubled the electronic bills sent to our customers and we plan to continue increasing this percentage.
% of customers who received electronic bills
Electronic billing sign up CCX
Electronic billing sign up ABB